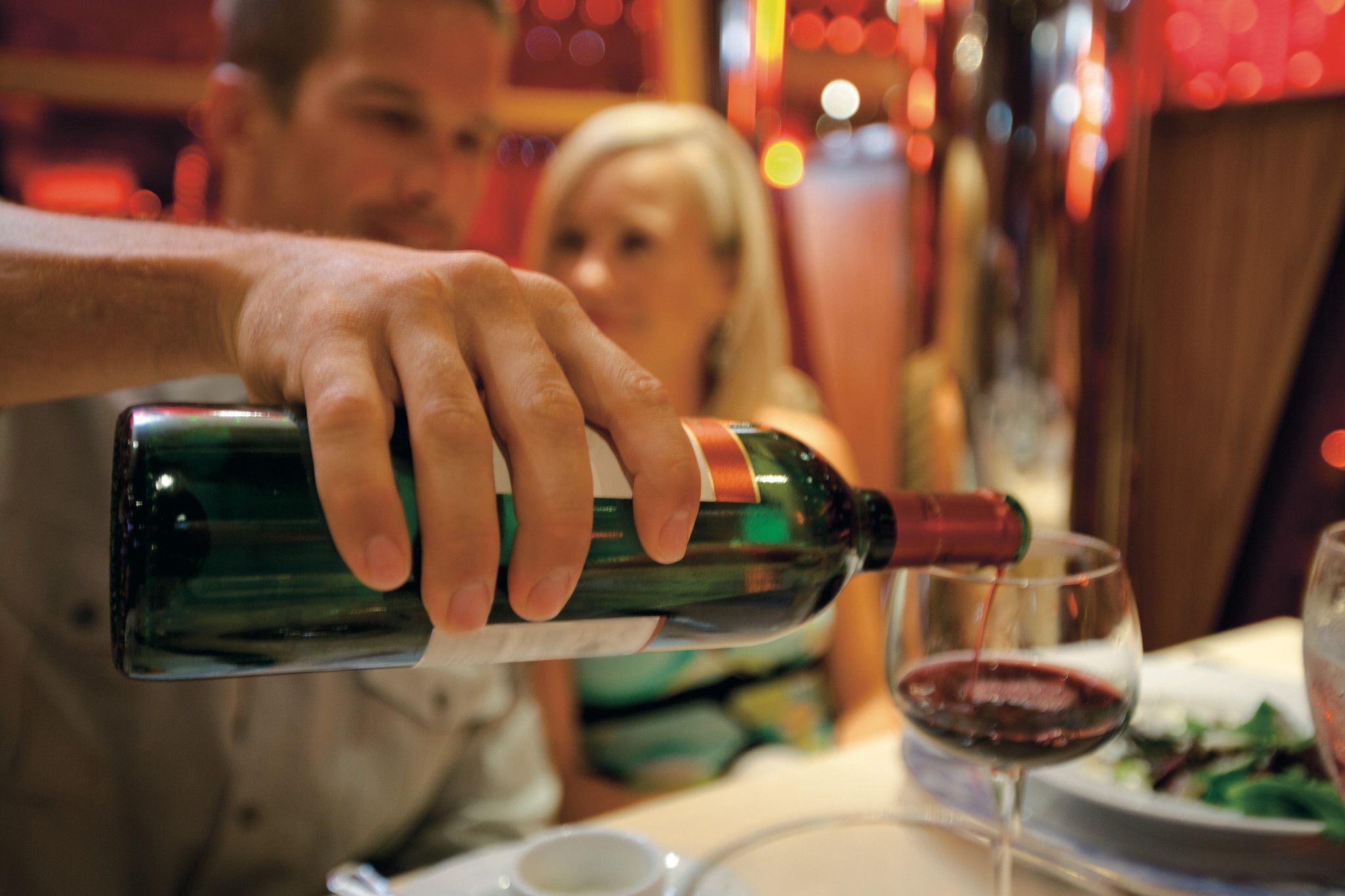 Beverage policies vary among cruise lines and may change without notice.
Carnival Cruise Line: Carnival has one of the loosest beverage policies of all cruise lines, allowing each guest to carry on a maximum of 12 sealed 12 oz. cans or cartons of a non-alcoholic beverage (e.g., sodas, juices, milk, or sparkling water) – a policy that most cruise lines have eliminated. Also, each adult (21+) guest may carry on one 750 mL bottle of wine or champagne. A $15 corkage fee will apply at bars, dining rooms, and specialty restaurants.
Disney Cruise Line: Disney is unique in that it allows each adult guest to bring two 750 mL bottles of wine or champagne or a six-pack of 12 oz beers onboard. A $25 corkage fee applies. While Disney's website does not clarify its policy about bringing onboard items like soda, soda is available free of charge at select locations onboard as well as in the dining rooms.
Holland America Line: Like many lines, Holland America allows the carry-on of 750 mL bottles of wine or champagne by adult guests. However, uniquely, the first bottle will not be subject to a corkage fee. Any additional bottles after the first, though, will incur a $20 corkage fee. This is per guest, not per stateroom. Other alcohol is not permitted to be brought onboard.
Norwegian Cruise Line: Norwegian also prohibits its guests from bringing any beverages onboard, with the exception of carrying on bottles of wine or champagne as well as factory-sealed purified or distilled water for medical devices or infant formula. Norwegian charges a $15 corkage fee for 750 mL bottles and $30 for a 1,500 mL Magnum bottle.
MSC Cruises: At embarkation, no alcoholic beverages are allowed to be brought onboard. Any liquor purchased in the ships' duty-free shops will be retained until the end of the cruise and alcohol purchases brought in from port will be held for safekeeping and delivered to passengers' staterooms on the cruise's last evening.
Princess Cruises: Princess allows one 750 mL bottle of wine or champagne per adult guest. If consumed in your stateroom, there's no fee. However, if you want to enjoy it at dinner or in a restaurant, there's a $15 corkage fee. A max of 12 sealed, unopened cans/cartons of 12 ounces of non-alcoholic beverages (i.e., sparkling water, sodas, juice, milk
Royal Caribbean: For Royal Caribbean, no beer, liquor, or non-alcoholic beverages are allowed to be brought onboard. However, a limit of two 750 mL bottles of wine or champagne per stateroom can be carried on. A $15 corkage fee may apply.
Get more than just miles on your next sailing with American Airlines Cruises. Now, you'll earn Miles & Loyalty Points toward AAdvantage® status. The more Loyalty Points you earn, the sooner you'll be able to achieve AAdvantage® Platinum® status — and the closer you'll be enjoying complimentary upgrades and more on qualifying American Airlines flights. Each eligible AAdvantage® mile you earn on every booking gets you one (1) AAdvantage® Loyalty Point.
Call 800-259-5642 or book online at American Airlines Cruises today.